Chambers
A progressive small town living the Good Life in Nebraska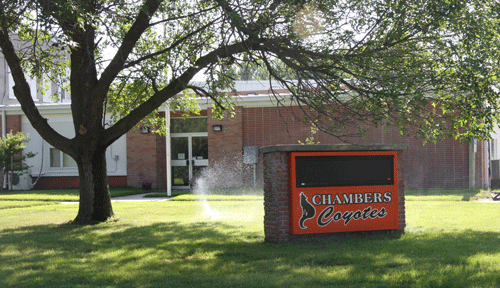 Chambers Public School District No. 137 in Holt County covers approximately 386 square miles. The Class 2 school is accredited by the state of Nebraska. The elementary school was built in 1935 and the junior-senior high school was built in 1963. One hundred percent of the eight grade students finish high school and ninety percent of high school seniors attend college while ten percent enter the job market or military following graduation.
Chambers Public School is proud of its rich tradition of excellence in academics, activities, and athletics. The student enjoy the support of parents, community, and an experienced faculty. In addition to a rigorous curriculum, the students have the opportunity to take distance classes as well as in-house college credit classes through Northeast Community College. Graduate surveys indicate that students have been well prepared for college and the work force. We take pride in the education we provide to help our students achieve the academic, physical, social, and emotional foundation needed to become successful, contributing members of society. Chambers High School has been noted for their outstanding band under the direction of Mr. Duane DeVries and their exceptional academic and athletic abilities.

Thoendel Learning Center, also located in Chambers, offers the Davis Dyslexia Correction Program to clients ages eight and older. The one week intensive and goal orientated program is designed for the visual-spatial learner. The program is facilitated by a licensed instructor focusing on techniques, understanding how to resolve confusion with letters, words and other symbols using their creativity and imagination.